OUR STORY
There is nothing more empowering than feeling beautiful in your own skin. However, achieving this is not always easy. Here at Dayna Lyn, our mission is help you look your best in order to start building the confidence you truly deserve. 
My name is Dayna Di Salvatore, licensed Aesthetician and owner of Dayna Lyn.  I specialize in at-home facial services, as well as my own line of revolutionary products. The passion I have for this business comes from my personal journey, along with years of training and working with many valued clients. I have a strong commitment to delivering the highest-quality treatments and one-of-a-kind skincare options that work for all skin types. There is nothing more rewarding than seeing the smile on someone's face after being able to help them feel radiant. 
As a young girl, I had a fascination with all things considered "girly". I began to dedicate my time and energy to establishing strong self-care techniques. From 10-step skincare routines I took out of celebrity magazines, to testing every anti-aging product on the market, I was constantly trying out new ways to improve my skin. At the time I never dreamed it would become my career, but it was something that came naturally and brought me joy. A near-death experience brought all of this together to show me the purpose of my life.
I had been in a terrifying car accident that nearly took my life. While I was able to survive, I was left wounded from the experience. I suffered a split liver, bumps and bruises all over my body, 4 missing teeth, and a broken bone in my mouth that left my lip with no support and constantly drooping. I was out of work for 7 months and felt completely helpless. Every ounce of confidence I once had was gone. That's when I chose to take control of my destiny by helping others so they would never have to feel as lost and unsure of themselves as I did in that moment. That is when Dayna Lyn began to take form.
In addition to wanting to give people a stronger sense of self-worth, I am also working to simplify the skincare industry. Even as a child, I read about the routines of my idols in magazines and realized they required several steps and incredibly expensive products. What I have created not only works for all skin types, but is effective. These are simple and easy to understand products, that actually work.
These are easy to understand AM and PM regimens with anti-aging technology. You can start to rejuvenate your skin's health, while combatting fine lines, wrinkles, and other signs of aging. Taking care of your skin is easier than ever, and it won't break your bank to achieve.
Dayna Lyn is here to help you reach your ideal skin and feel your most confident. Nothing brings me more joy than helping others overcome their own insecurities with the services and products that make a real difference for their skin. I cannot wait for you to try this line for yourself, or book an appointment with me in person if you live in the Westchester area. You can finally begin to see the difference you've been dreaming of for your skin health!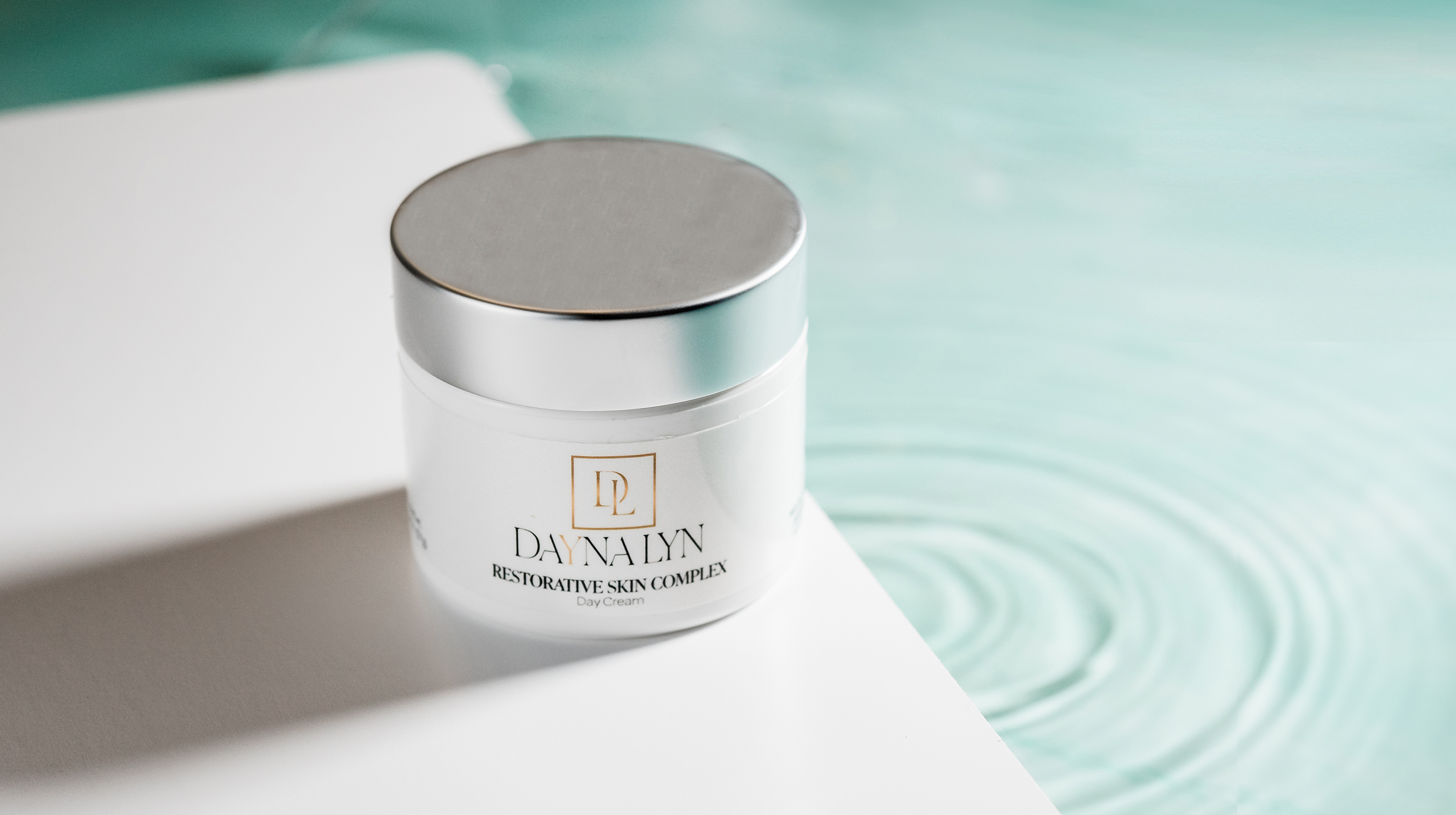 Hydrate, Hydrate, Hydrate!
Formulated with high-quality ingredients and revolutionary technology, Restorative Skin Complex bathes your skin in age-defying hydrating moisture that revitalizes and restores skin texture and gives it a more radiant look and feel. It works for all skin types, even sensitive skin, provides 24-hour deep hydration and rejuvenation, and protects skin from the effects of environmental aggressors.
Shop Now
Our Promise
At Dayna Lyn, our mission is to continually provide the best and most efficacious skincare products so that every woman can continue to be their very best self. We believe that every woman deserves the very best that life has to offer. That's why we have developed results-driven formulations, comprised of only the highest-quality ingredients free from gmos, parabens and animal products. Our relentless pursuit of innovative skincare science continues to drive our product innovation.
live In the Westchester area?
I am a dedicated Aesthetician trained, licensed, and certified in a range of treatment modalities including anti-aging, microneedling, acne, dermaplaning, microdermabrasion, and chemical peels. As a professional I am committed to providing my clients with the highest standards of customer service to be found in the industry.